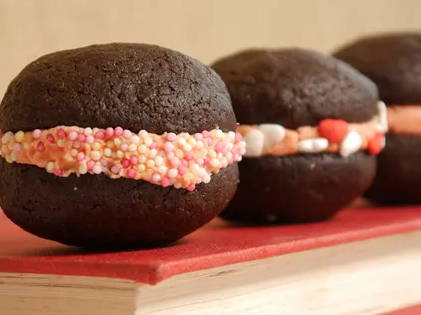 This is a rich 'melt in your mouth' biscuit; it's a lot like a chocolate kiss really. Sublimely decadent and made with 70% cocoa solids chocolate.
Makes 25-30 Biscuits
---
1/2 cup finely ground cocoa
1/2 teaspoon baking powder
1 teaspoon vanilla extract
2 cups icing sugar sifted
1/2 teaspoon vanilla extract
1-2 tablespoons of hot water
Preheat oven to 170°C. Line three baking trays
Melt the butter and chocolate in a saucepan on low stirring continuously, you don't want to burn the chocolate. Once completely melted and combined set aside to cool.
Sift the flour, cocoa, baking powder and salt into a bowl.
Stir the cooled chocolate and butter mix together with the sugar, vanilla extract and eggs and mix for several minutes with an electric beater or cake mixer.
Fold in the sifted dry ingredients until thoroughly mixed. Leave to set for a few minutes.
Roll teaspoon sized blobs of the mix into even balls and place evenly spaced on your baking trays.
Bake for 10-12 minutes until slightly cracked on the top. Leave biscuits to cool on the tray for a few minutes and then transfer on to cooling rack to cool completely.
To make the filling beat the butter with an electric beater or in a cake mixer until pale, slowly add the sifted icing sugar until completely combined. Add your gel colouring until you reach a desired colour, making sure you beat well between each dollop added as gel colouring can sneak up on you! As you will be piping the centre add a tablespoon of warm water if you need a more fluid consistency.
Put your filling in a disposable piping bag (or a glad bag and cut the corner off). Pipe around the outer edges of the biscuit, and sandwich together with another one pushing the filling out a bit. If you are adding sprinkles place them in a bowl and roll the cream edge in the sprinkles. Complete with the rest of your biscuits and enjoy. Keep in an air tight container, they will last for a few days but the biscuits will harden up if left too long.