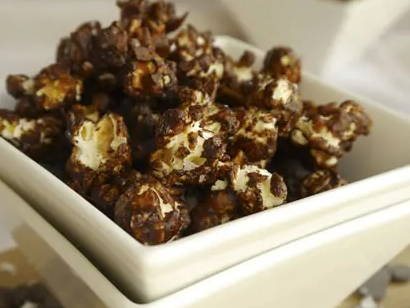 An absolutely decadent and delicious comfort food for winter!
---
6 cups popped pop corn (approximately ½ cup of unpopped kernels)
2 tablespoons golden syrup
Flaky sea salt to taste and extra chocolate callets
Preheat oven to 120 degrees Celsius.
Line a roasting dish or baking tray with edges with foil
Put popcorn in a large bowl and set aside
Melt butter in saucepan on medium high. Add brown sugar, golden syrup and salt and stir until boiling. Let boil for 2 minutes without stirring
Mix in baking soda and vanilla and stir until combined.
Pour over popcorn and stir to coat. Add chocolate callets and mix with wooden spoon until completely melted and combined.
Spread popcorn over baking tray and bake for 30 minutes.
Let cool and sprinkle with sea salt and extra chocolate callets if you choose.