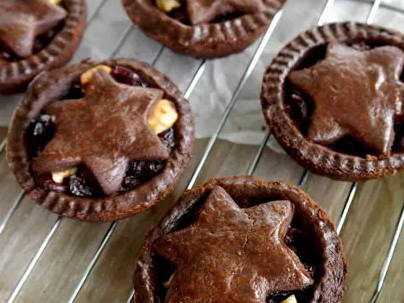 My Chocolate Christmas Tarts are very similar to Christmas mince pies but with an easy centre you can make on the day you make the tarts (I love it because it doesn't have mixed peel in it!)
---
200g cold butter diced (I used salted)
80g raisins soaked in hot water for 15 minutes then drained
40g roasted chopped hazelnuts
1 egg beaten to finish the tarts before baking
The pastry recipe came from the BBC website, I've made it a couple of times and have found it really successful.
The recipe makes 24 mini tarts and 8 normal for me (regular cupcake tin size), so I could predict it would make around 36 mini and 16-24 large if you are just making one size.
Mix the flour, icing sugar, cocoa powder and salt together in a bowl. Mix in the butter with your fingertips until mixture looks like breadcrumbs (I do believe you can speed this up using a food processor if you are lucky enough to have one, I did it by hand).
Stir in the egg yolks until the mixture comes together in clumps. Knead dough briefly until smooth, wrap in cling film and leave to chill in fridge for one hour.
While this is chilling prepare the centre. Drain the raisins and then mix all of the filling ingredients together (I told you it was easy!)
Preheat oven to 180 degrees Celsius.
Take your pastry out of the fridge and roll out to 3-5mm thick (I rolled my pastry out between two pieces of baking paper). Use a fluted round cutter the right size for your tins and cut pastry circles out. There is no need to butter the tins, there is enough butter in the pastry for them to release from the tin.
Press the pastry circles gently into your muffin tins and spoon in the filling. Cut out a Christmas shape (I used stars) and place over the filling. Brush with the beaten egg for a nice shiny finish.
Place in the oven for 15 – 20 minutes depending on the size of tart you are making. (For my oven it was 15 minutes for the small and 20 for the large, I cooked them separately).
Leave to cool and then take out of the tin. Add a touch of sifted icing sugar to the top if you wish.
What I love about these tarts is you can experiment with your centre, try different nuts and dried fruits and different types of chocolate. Enjoy, and have a wonderful festive season.