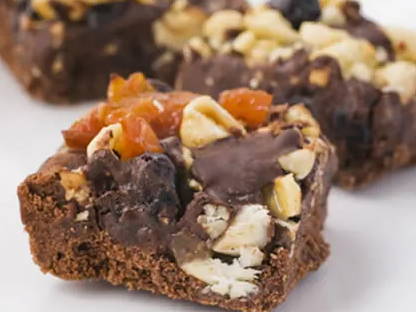 A family favourite and created by Stephanie Everitt owner of Devonport Chocolates. Perfect with a cup of tea or coffee.
---
1/2 teaspoon vanilla essence
1/4 cup

finely ground cocoa
1 1/2 cup mixed nuts (we used pistachios, hazelnuts and almonds)
1/2 cup dried fruit (we used apricot and cranberry)
Preheat the oven to 180°C. Line an 18 x 28cm baking pan with baking paper, or use a silicon pan.
Cream the butter and sugar with an electric beater thoroughly. Add the vanilla essence and beat again. Sift in the flour, cocoa and baking powder and mix until evenly combined. Press into the base of the pan and bake for 15 minutes.
While the base is baking melt the butter, sugar and honey together in a saucepan over low heat. Bring the mixture slowly to the boil and simmer for 2 minutes. Sprinkle the nuts, dried fruit and chocolate over the hot base. Pour the honey mixture over the dried fruit and nuts.
Reduce the oven temperature to 150°C and cook for another 10-15 minutes.
Leave to cool in the pan. Once completely cooled cut into small pieces. Makes approximately 35 pieces
Tips: Let your imagination go wild with all the possible nut and dried fruit combinations that are possible.