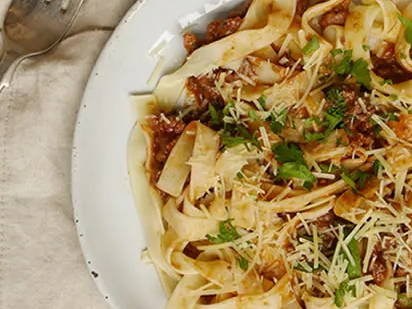 My Mum made this for me on a particulary chilly winter day. I can imagine it would be just as nice as a summer evening dish.
---
1 tablespoon chopped sage
Sweat the chopped onion and garlic in 1 tablespoon of olive oil. Add the pork mince, breaking it into small pieces and stir. Cook till the meat is no longer red, stir again then rest the cinnamon quill on top of the meat.
Add the cup of red wine, the cup of passata, chopped sage, stir and cook for about 20 minutes. Taste and season with salt and pepper.
If the meat and sauce dries out too much while cooking add water ¼ cup at a time as needed.
After 20 minutes add the chocolate in 10g chunks and stir through. Check to see if more salt and pepper is needed.
Put the pot of water for the pasta onto boil when you start cooking the mince, add 2 pinches of salt and olive oil to the water and add the pasta once the water boils. Follow the directions on the packet for the different cooking times for fresh or dried pasta.
Drain the pasta when it is al dente, firm but not hard in the centre.
Put the amount of pasta you need on a plate add the ragu mix on the top and toss amongst the strands of pasta.
Sprinkle with finely chopped Italian parsley and grated parmesan . Enjoy!