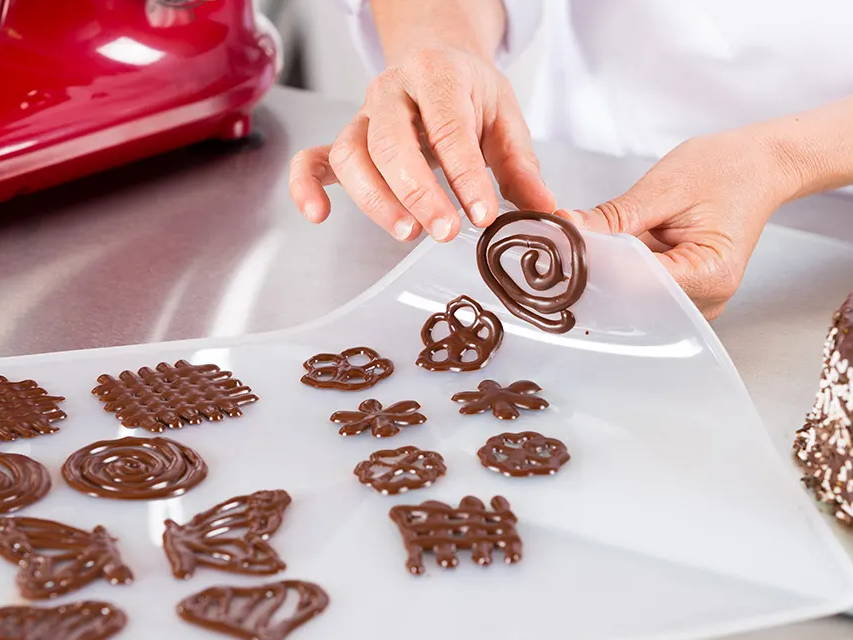 As promised here is a way you can temper chocolate at home using a microwave. This is great to use if you are dipping fruit or your own truffles in coverture chocolate it means the chocolate will have a nice gloss and shine to it that will last. This would also be fun to do during the school holidays to make your own chocolates.
---
1 x medium microwave proof bowl
1 x small microwave proof bowl
Digital Thermometer (with probe) available from all good kitchen stores
Put 300g of chocolate callets in your medium bowl.
Place in the microwave on medium power and microwave in one minute bursts until melted. Stir well between each burst in the microwave.
Once melted check the temperature of your chocolate, it needs to be between 55-58°C(for dark chocolate). If your chocolate has melted but hasn't reached this temperature put it in the microwave on medium for 20 second bursts until it reaches this temperature, stirring well each time.
Set aside one third of your melted chocolate in a warm place. Add the remaining 100g of chocolate callets to your remaining two thirds of melted chocolate and strip well. The aim of this is to bring the temperature of the chocolate down to 29°C. It is really important to keep stiring, in particular around the sides of the bowl and the base of the bowl.
Once the temperature has reached 29°C you need to bring it up to 32°C and to do this you add in the third of melted chocolate that you set aside earlier and this should bring the temperature of your chocolate back up to 31°C- 32°C.
Some tips:
If you are struggling to bring the temperature of your chocolate down even after adding the 100g of callets you could put a couple of ice cubes in the bottom of a bigger bowl and place the bowl you are working with on top. I did this as my kitchen was so hot I struggled to get the temperature down. Make sure no water gets in your chocolate though, chocolate and water don't mix.
If you are putting the chocolate in moulds, give the cavities of the mould a polish with a lint free cloth. Pipe chocolate into the mould with a piping bag, this makes it easier to handle at home.
Keep stiring and stir some more, this is really important for a good temper.
If you are using blocks of chocolate use a serrated knife to chop roughly.