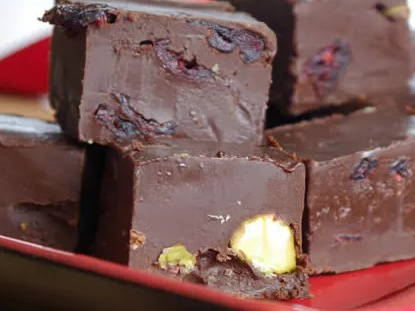 When I found the base to this recipe on Delish.com I thought it was too good to be true, but it really works! This chocolate fudge is a creamy chocolate fudge. It will last at room temperature up to a week and in refrigerator up to a month.
---
1 can Sweetened Condensed Milk (395g)
1 1/2 tsp vanilla extract
I added 70g of pistachio nuts and 70g of dried cranberries but you could add your own combination of dried fruits and nuts.
Line a baking pan (approximately 20cm x 20cm) with tin foil, extending the foil above the edge on two sides (this helps you get it out of the tin!)
In a large saucepan combine the sweetened condensed milk and chocolate callets. Cook over a medium/low heat for 5 minutes or until the chocolate is completely melted and mixture is smooth. You must stir constantly or your chocolate will burn!
Remove saucepan from heat and stir in your vanilla, salt, dried fruit and nuts.
Pour chocolate into your prepared tin and refrigerate until set (approximately 4 hours)
Remove fudge from pan by lifting up by edges of foil and invert onto a cutting board. Discard foil and cut into cubes. I found heating my knife up under hot water and then drying it before using it to cut the fudge really helped give the fudge a smooth edge.
Store in an air tight container with baking paper between the layers of fudge.