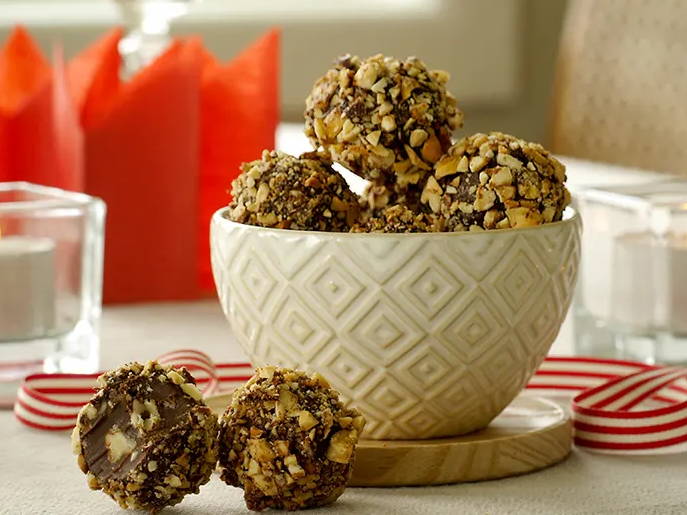 These delicious truffles are really easy to make and so delicious (my husband literally inhaled the ones I made). Give away as gifts or serve with coffee and a cheese platter. Makes around 30-40 truffles.
---
160g sweetened condensed milk
80g of roasted hazelnuts, shell removed and roughly chopped
200g roasted hazelnuts shells removed roughly chopped
Line a baking tin (I used a 26cm x 15cm) with foil.
Combine butter, condensed milk, dark chocolate callets and whiskey in a saucepan on very low heat. Stir continuously until chocolate has melted.
Transfer to a bowl and add nuts and fruit to chocolate mixture and stir until combined.
Pour into your prepared tin and pop in the fridge.
Leave in the fridge until set enough to cut but still hold it's shape when you roll into balls. If you leave in the fridge too long, just leave on your bench until soft enough.
Turn mix onto a board and cut into even sized squares. If you want perfectly even sized truffles, weigh each piece, adding and removing mix until you reach the perfect weight, I aimed for 14g.
Roll each piece into a ball and place on an oven tray covered with baking paper and leave to set again. I found my truffle balls set at room temperature but if your kitchen is hot you may need to put them in the fridge just for a moment.
Now it is time to coat your truffles.
Place your dark chocolate in a microwave proof bowl. Put in the microwave on medium for one minute bursts, stirring well between each minute until chocolate is melted.
Place your roasted and chopped hazelnuts in another bowl.
The next bit I found easiest to do wearing disposable gloves.
Take a truffle ball and dip roughly in the chocolate then remove excess chocolate, you don't need heaps of chocolate just a thin coating. Place the ball in the chopped nuts and with your other hand roll it around coating in nuts and then place on a baking tray or cookie tray covered with baking paper. Repeat with all of your truffle balls. Once you get used to it you can do several at a time.
Place your truffle balls that have been covered in nuts in the fridge to set.
Then enjoy!
Tips and tricks:
Sometimes the whiskey takes a bit of effort to mix in, just give it a really fast stir.
While the mix is setting in the fridge the butter can separate. Don't worry while you are rolling it into a ball it will melt with your body temperature and mix back in.
You could also add freeze dried fruit pieces or powder to your coating to make your own unique flavour combination.
If you have a food processor you can use this to roughly chop your nuts, if you don't don't worry it just takes persistence and time (I don't have one).