In times gone past I have had a lot of fun creating some unusual and easy to make Halloween treats. Below are two of the most enjoyable creations I have made that might bring delight to your family this Halloween.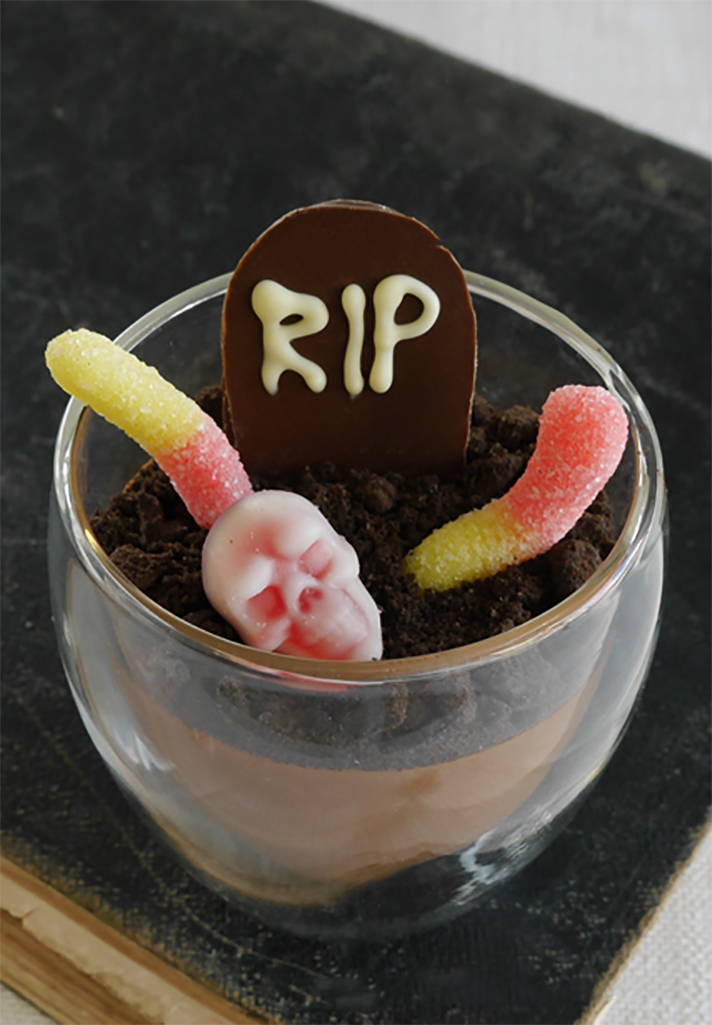 Sometimes you can't go past a chocolate thin and in this case they are the perfect size for a gravestone.
To make this recipe you can use any chocolate mousse recipe you like, but here is the one I made.
Ingredients:
250g Devonport Chocolates Dark Chocolate Drops (I used 55% cocoa solids)
300ml cream
2 tbsp caster sugar
4 eggs room temperature
1 tsp vanilla extract

Decorations for graveyards:
Chocolate Thins
Devonport Chocolates White Chocolate Drops
Various lolly worms, you would be surprised at what pops up at the supermarket at this time of year.
Oreo's for dirt or just smash up left over chocolate thins.
Method:
Place dark chocolate in a microwave proof bowl. Put in the microwave to melt on medium for one minute bursts stirring well between each minute until melted.
Whisk cream until soft peaks form.
Separate egg yokes from the egg whites.
Place the egg yolks and vanilla extract in a bowl and beat until creamy.
Place egg whites in a separate bowl and whip until soft peaks form, (I used my cake mixer for this). Continue whipping and slowly add caster sugar until a nice glossy meringue like colour and texture is achieved.
Pour in the chocolate and egg yolk mixture into the egg whites and whisk until just combined.
Add whipped cream and whisk again until just combined.
Pour into six little cups and set overnight.

The next day if you are using Oreo's separate your Oreo's, scrapping out the cream filling. Put in a plastic bag and bang with rolling pin until ground up and they are looking soil like. Just do the same thing with your chocolate things if you didn't want to buy two types of biscuits, I completely understand. Sprinkle this on top of your mousse to look like dirt.

Melt a handful of white chocolate drops in your microwave on medium-low for 30 second bursts. Once it is half melted don't microwave anymore just stir until completely smooth. Put melted chocolate in a plastic bag (I find a zip lock one really useful) and cut a tiny (very tiny!) hole in the corner or use a reusable piping bag. Pipe RIP on your Chocolate Thin biscuits. Put in fridge to set then push into the mousse to create your gravestone.
Push in various worms and skulls to finish.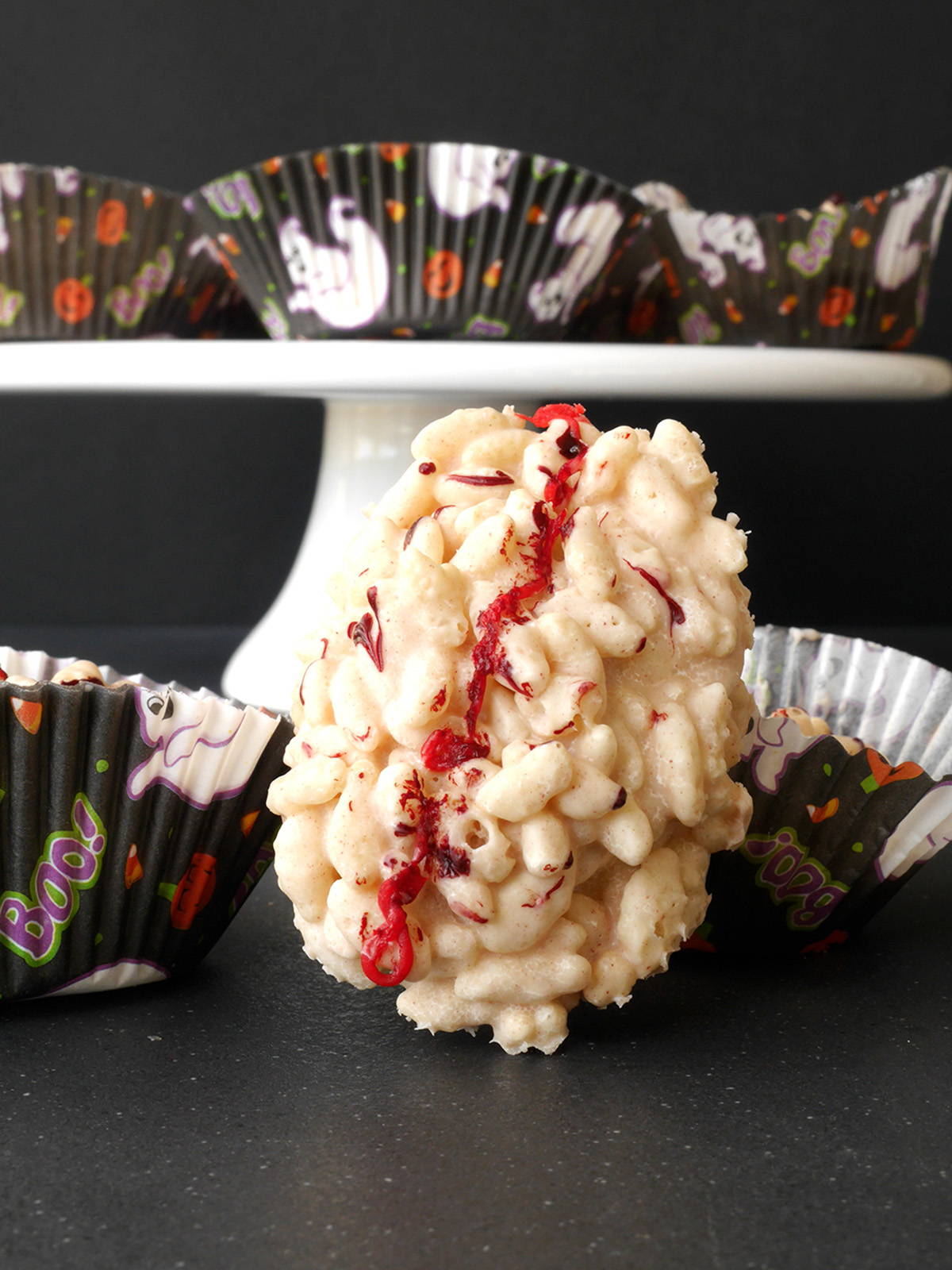 Totally gruesome and totally delicious! These white chocolate brains are really easy to make.
Makes approximately 24 depending on the size of your cupcake cases.
Ingredients:
250g Devonport Chocolates White Chocolate Drops
90g desiccated coconut
75g rice bubbles
To Decorate
Red gel food colouring
Fine paint brush
Cupcake cases, there are some really fun Halloween ones you can get.
Method:
Place chocolate drops in a microwave proof bowl and microwave in one minute increments on medium power. Stir well between each minute.
Once chocolate has melted add a little of the red gel colouring to colour the white chocolate faintly pink.
Mix in the rice bubbles and coconut.
Spoon the mixture into cupcake or muffin cases to half way up the sides of the case Use the sides of the case to form it into more of an oval, brain like shape.
Once you have spooned all of the rice bubbles into cases. Paint a red gel seam down the brain and add a few more swirls around the rice bubbles to look like blood vessels (this does take a bit of patience).
Place in fridge to set.