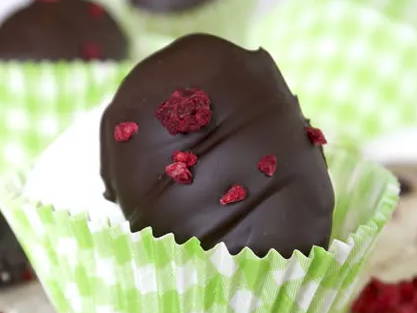 Delicious marshmallow eggs that are egg, and gluten free and dairy free if you don't dip in chocolate. YUM!
---
Cornflour and 1 egg for making mould (check your cornflour is gluten free if you need to keep the marshmallow eggs gluten free)
Freeze dried fruit for extra flavour and decoration (optional) I used freeze dried raspberry.
Put sugar, cold water and vanilla extract into a bowl and beat on high speed for 2-3 minutes. You can use a cake mixer with a whisk attachment or a hand held electric beater.
Dissolve gelatine in hot water and while still hot add to the sugar mixture and beat until thick and white, Keep beating until soft peaks form.
Take a baking tray with sides (like a slice tin) and fill with cornflour, pack it in so it is firm. Take the egg and press it into the corn flour, this makes your mould, the egg doesn't actually get used in the recipe.
Pipe your marshmallow mixture into the mould and sprinkle a bit of cornflour to cover the marshmallow. When the marshmallow is set you can just break up the corn flour around the eggs.
If you would like yolks in your marshmallow eggs, leave some of the marshmallow aside and mix in the yellow food colouring. Pipe in a circle into and on top of your egg to create a yolk that sits in the egg.
If you are dipping your marshmallow in chocolate go to our article tempering chocolate to see how you can temper chocolate at home, this will ensure your chocolate is nice and glossy. Unfortunately I didn't have the room to tell you how to do it here!
Shake excess cornflour off the marshmallow eggs. Dip the eggs in chocolate using a fork, roll them around and put them on baking paper. Sprinkle with any freeze dried fruits or decoration and put eggs in the fridge to set.
(Store in an airtight container, up to 1 week.)
Ingredients - flavour variations
Choose some of these flavour variations to add some excitement to your marshmallow eggs.
2.5 ml mint oil
1 drops green food colouring
2 teaspoon vanilla
1 teaspoon raspberry flavouring
2 drops red food colouring

If you are adding any of the flavours like, mint oil or raspberry but them in with the cold water and add cold water to total up to 60 ml.