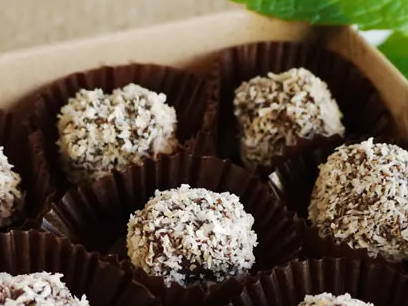 Celebrate spring with the first cocktail of the season, chocolate style!
---
2 sprigs of fresh mint (top 3 inches of the mint stalk)
1 tablespoon of dark rum (now I know a mojito has white rum in it but I discovered the rum taste doesn't come through when you use white rum)
lime oil (can be found in most gourmet food stores/supermarkets)Devonport Chocolates cocoa
Equipment Needed:
1 x small pot
1 x medium pot and a bowl that will fit over the top of it to create a bain-marie.
2 x cookie trays or oven trays (one of which can fit in your fridge)
1 x disposable piping bag (available in most supermarkets now, in the baking section)
2x medium high sided bowls
1 x microwave proof bowl
Assortment of spatulas, spoons and a fork.
Put cream and fresh mint in a small saucepan. Bring to the boil over a medium heat and boil for 2 minutes, take off the heat and set aside to cool for approximately 30 minutes.
Discard the mint and warm the cream back up on a low heat.
Put 200g of the chocolate callets in a metal or ceramic bowl and place over a pot of simmering water. This is the best way to melt chocolate without burning it. You want to make sure the water isn't touching the bottom of the bowl, you are just relying on the heat from the steam to melt the chocolate. Stir your chocolate until it is completely melted, add your warm cream and rum. Stir until well mixed and silky smooth. – IMPORTANT TIP – Don't let any water get in your chocolate, water and chocolate are not friends and your chocolate may go grainy and seize up like over whipped cream.
Fill your disposable piping bag with your ganache mix. The easiest way to do this is to place your piping bag in a tall cup or mug and roll the edges of the piping bag over the glass. Place glass and piping bag in fridge and cool until chocolate mix is firm and can hold its shape but not so firm you can't pipe it.
Place baking paper on one of your cookie trays. Cut the end off your piping bag so that you can pipe a length approximately 8-10mm thick. Pipe lengths of mix onto baking paper. Cover and place back in the fridge until set.
Cut piped ganache into 1cm lengths, don't worry if you think this is small, by the time you add more chocolate and coconut they are quite sizeable.
Cover your second cookie tray in baking paper and place your coconut on it. Put 6 small drops of lime oil on the coconut, mix it around well and put under grill to toast in until light golden brown. Place your coconut in a high sided bowl.
Place the other 200g of your chocolate in a microwave proof bowl. Microwave on medium power for two minutes and then give a really good stir. Place back in the microwave at 30 second intervals on medium, stirring well between each burst until melted and smooth. Please don't whip the chocolate, you don't want air in it.
Now here comes the fun bit, you can use forks, spoons or put disposable gloves on your hands if it makes this process easier.
Take three pieces of ganache and place in the melted chocolate.
Take pieces out and put in an empty bowl (you do this to remove the excess chocolate or your coconut ends up really messy)
Take pieces out of bowl and put in coconut and roll them around. Leave the pieces in the coconut for now to set a little.
Take three new pieces of ganache and place in melted chocolate.
Take pieces out and put in the empty bowl.
Take pieces out of bowl and put in coconut and roll around. Then take out the original pieces that have been in the bowl setting by placing your fork under the pieces, put them on a tray covered in baking paper.
Repeat this process with all your chocolate pieces and then place in the fridge for approximately 10-20 minutes, (about as long as it takes to clean up).
Take out of the fridge and bring up to room temperature to eat or put in a nice box of cellophane bag to give as a gift.