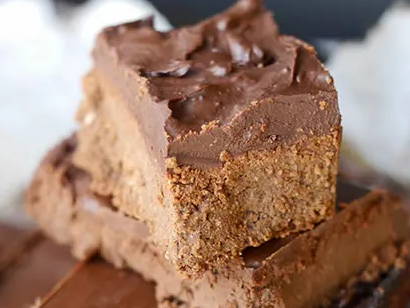 Chocolate yes! Almonds yes! Kumara... sure?
I love reading anything food related, the more creative the better. So when I started frequenting vegan and paleo blogs I knew I too had to try some sweet treats with kumara.
After many, many batches I believe this recipe will provide you with some of the most scrumptious brownies you'll ever try! And yes, I have definitely enjoyed these for breakfast a time or two!
---
400g Cooked golden kumara- about 3 medium sized
1 tablespoon finely ground cocoa
Pre heat oven to 180 degrees celcius.
Bake kumara until very soft. I just microwave mine on high for 15 minutes.
Once cool enough, slice them in half and scoop out the golden goodness leaving the skins behind.
Soak 5 pitted dates in hot water for at least 2 minutes. Then blend the dates and water in food processor for about 30 seconds, then add in your kumara and blend until pureed.
Melt down 70% chocolate then add in your kumara mixture along with cocoa, ground almond, coconut flour and mix well.
Pour mixture into a greased 20cmx30cm tin, spread out evenly and bake for 20 minutes.
Topping:
Melt down chocolate with coconut oil and mix well.
Once left to cool for 5 minutes smooth all over your cooled brownies, slice and enjoy!