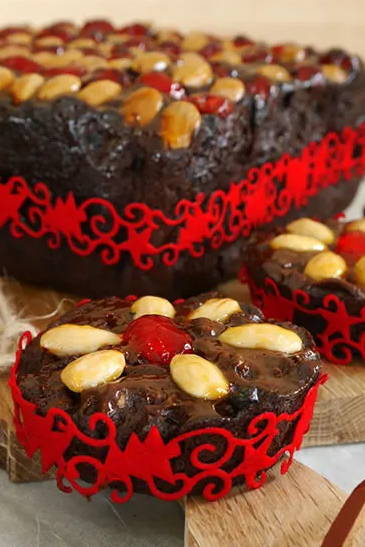 For years every household in our family has received a homemade Christmas cake from my Nana Everitt. I'm not a huge fan of fruitcake and Nana's is the only one I would eat. When Dad visited Nana in Morrinsville I asked him to extract her recipe as I wanted to make cakes for my friends and husbands family. In my mind I imagined an old recipe card smeared with cinnamon and nutmeg, which Nana would have to search for (as she always made the cake from memory) but instead Dad came home with a Tasti Fruit Mix packet. The recipe Nana has been making for years can be found on the back of the packet! The recipe below is a combination of three recipes but the base ratios of fruit are the same as the original Tasti recipe. I have added chocolate, cocoa and made it gluten free!


---
70g walnuts roughly chopped
70g blanched almonds roughly chopped
1 cup sherry, brandy, cointreau (in desperation I have also used bourbon as that is all I had and it worked well)
250g butter room temperature
230g gluten free plain flour
½ tsp each of mixed spice, ground cloves, cinnamon, nutmeg (make sure these are gluten free)
Extra brandy if you choose for the top once cooked.
Extra almonds, pecans, walnuts and cherries if you choose to decorate.
Preheat oven to 160°C. Line your choice of tin or tins with three layers of baking paper. (For my mini cakes I used a non stick Texan muffin tin sprayed liberally with a release spray.
Mix fruit, nuts, chocolate callets, apple, golden syrup and brandy in a very large pot. (I use a pasta pot). Put an element on medium and keep stirring until chocolate has melted into the mix.
Cream butter and sugar until light and fluffy. Beat in eggs one at a time.
In a separate bowl sift almond meal, flour, cocoa, spices and rind together, and then fold into the fruit mix.
Mix the orange juice and baking soda together and add to your cake mix.
Spoon the cake mix into your tins and decorate the top with fruit and nuts if you choose.
Reduce oven temperature to 150°C. Place cake below middle rack and bake. For my full cake I baked 2 ½ hours, for my muffin sized cakes one hour but they could have done with a little less. The trick is to put a skewer in and if it comes out clean you're all go, except with chocolate there will always be a little residue so if crumbs come out of the skewer you will be right as rain, but not un-cooked mix.
Once out of the oven you can brush the cake with extra brandy, sherry (or bourbon). Personally I don't like a cake that is too boozy so I often skip this step.
To make the glaze put apricot jam and lemon in a sauce pan and heat until mixed and runny then brush over your cake.