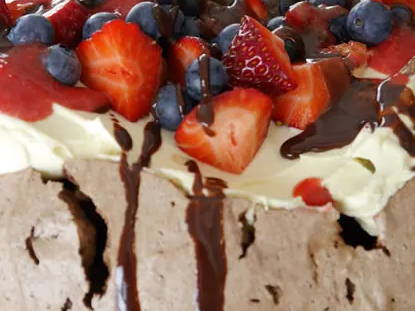 Delicious pavlova, crunchy on the outside and chewy on the inside with swirls of chocolate.
---
2 teaspoons white wine vinegar
Assorted strawberries and blueberries for serving
To make the pavlova:

Heat your oven to 140 degrees Celsius fanbake.
Whisk your egg whites until they form stiff peaks. I used a cake mixer, it made this recipe so easily but an electric hand beater will do just as well.
Gradually add the caster sugar one spoon at a time, whisking well between each spoonful to ensure sugar dissolves. Once all sugar is added, whisk for a couple more minutes until the mix has a beautiful satin gloss.
Sift the cocoa and cornflour into the mix and add vinegar and chocolate callets. Fold everything in with a metal spoon until just mixed, no longer.
Cover a baking tray with baking paper and mark a 25cm circle on it.
Spoon your mix onto the shape, building up and smoothing the sides.
Place in oven for one and a half hours then turn off the oven and let pavlova cool in the oven.
To make the strawberry coulis:
Place chopped strawberries in a blender and wizz until smooth. Place in a saucepan on medium heat, add the sugar and a squeeze of lemon juice and stir until sugar has dissolved and remove from heat.
To make chocolate ganache:
Put cream in a saucepan on medium heat and bring to the boil. Once boiling take off the heat, put chocolate in the pan and stir until chocolate is completely melted and cream and chocolate are completely combined.
This is how I served my pavlova:
This pavlova cracked but it has a nice chewy centre, so the cream is very important! In the middle of my pavlova I placed some strawberry coulis and covered it with cream. I topped the cream with chopped strawberries and blueberries and then drizzled it with strawberry coulis and chocolate ganache. Put the left over coulis and ganache in separate jugs so your guests can have extra if they like.
Voila – enjoy!