If you have chosen NZ Wide Standard Delivery, please note that couriers are experiencing big demand and parcels are taking longer than expected to be delivered.
Delivery during the Omicron surge
From time to time due to staff shortages our couriers may experience increased demand. The result may be that your parcel will be delivered later than the standard delivery times our couriers have given us, we appreciated your understanding.
Mother's Day Delivery
We recommend ordering by the following times and days for delivery before Mother's Day. Please note delivery on Mother's Day(Sunday) isn't available due to the courier service we use.
South Island and Rural Delivery 12pm Monday 2 May
North Island Delivery 12pm Tuesday 3 May
Auckland Standard Delivery 12pm Wednesday 4 May
Auckland Guaranteed Next Day Delivery 9am Friday 6 May
Easter Delivery
We recommend ordering by the following times and days for delivery before Easter. Please note delivery Easter weekend isn't available.
South Island and Rural Delivery 9am Thursday 7 April
North Island and Auckland Standard Delivery 12pm Monday 11 April
Auckland Guaranteed Next Day Delivery 9am Wednesday 13 April
Guaranteed Next Day Delivery
We are now offering guaranteed next day delivery to Auckland and North shore suburbs. This covers the suburbs in the map to the right.
Please note this doesn't come with a tracking number as we use a 'florist' courier.
Guaranteed next day is during working days and excludes the weekend, so if we receive your order on a Saturday it will not be picked up until the Monday. Orders must be received by 9:00am for guaranteed delivery the next working day.
Orders will be dispatched Monday - friday.
We will be at the end of the onlineorders@devonportchocolates.co.nz email Monday - Fridays for any inquiries.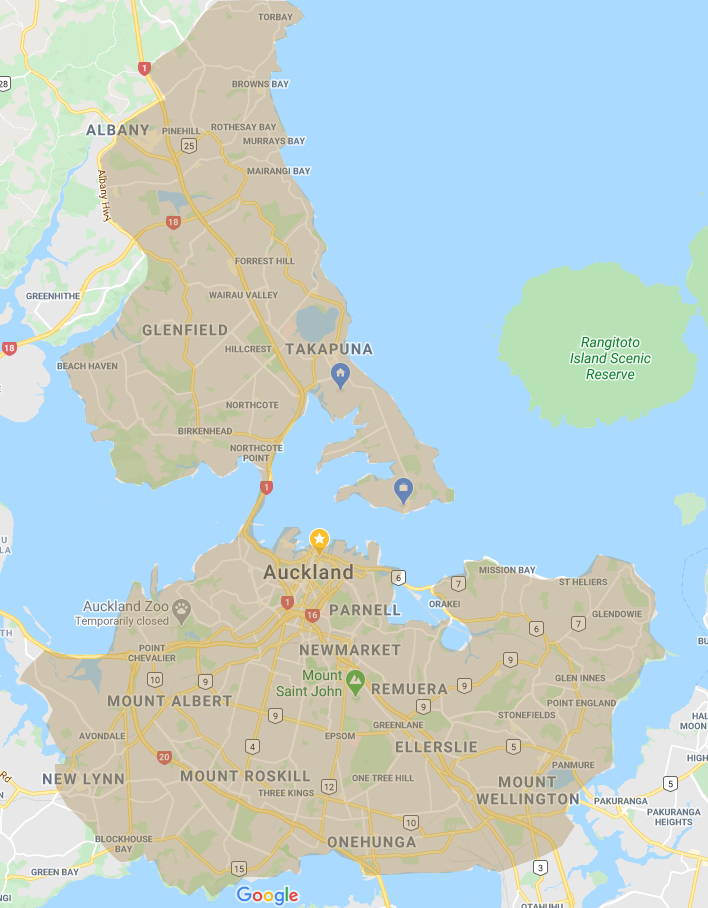 How to check if my order has been delivered?
When we send your package out on our courier we will send you a confirmation email with a tracking number. You can track that parcel by heading over to our courier website https://www.nzpost.co.nz/tools... Sometimes when we are really busy we send an email out before the courier picks the parcel up, if we have just sent your email out it may not show up yet.

If you think it should have been delivered and it isn't showing up or showing incorrect details please don't hesitate to call us on +64 9 445 6001. Or email onlineorders@devonportchocolates.co.nz. Please have your order number ready to go so we can look up your order for you.
Free Freight Terms and Conditions
Free standard freight on orders over $100 is to one NZ address.
General Delivery Guidelines
Deliveries within New Zealand are completed via a signature required courier except during Covid alert levels 4-2 where contactless delivery is expected.
Weekend are not available within New Zealand.
Permission to Leave
If a property has a permission to leave or PTL on it and the product gets melted or weather damaged we are unable to offer any refunds. PTL's are often made by the owners of a property and they request all parcels be left, this overrides any request we make to get a signature for delivery. Our couriers always aim to leave a parcel out of the weather or out of the sun, however the sun can move during the day.
Same Day Deliveries
Please note we are unable to accept same day deliveries unless you choose the option to Auckland suburbs within our timeframes however our factory may be able to assist with same day Auckland deliveries in other instances if our florist courier has already been.
To request a same day Auckland delivery using a 3hr or 75min Pace Courier, please phone our factory on 0800 00 2462. Same day deliveries outside of Auckland are not available sorry.
'Don't Open Until Label'
When placing your order you can request a 'Don't open until' label. Just let us know in the instructions. Due to our use of a courier service we can't guarantee delivery days, choose this option to remind the recipient to hold onto the prezzie until they should open it. If you order in advance we will send out your parcel to try and make sure it is received as close to this day as possible but we would rather is arrives earlier than later.
During busy seasonal periods we may send parcels earlier than usual to allow for the heavy workload of the courier. If your parcel does arrive before your preferred delivery date we apologise but feel that perishable goods such as ours are better to arrive early rather than too late.
Order Retrieval and Packing Timeframe
Please take the following important information into account when ordering from overseas and when selecting your preferred delivery date.
Orders are retrieved by our online team between 9am and 5pm Monday to Thursday and 9am – 3pm Friday, New Zealand time.
Orders placed after 5pm Monday-Thursday will not be retrieved until 9am the following morning. If you have ordered after 5pm for a delivery the next day we are sorry that this will not be possible.
Orders placed after 3pm Friday (i.e. during the weekend) will not be retrieved until 9am Monday. If you place your order within this weekend period for delivery on Monday, it will not meet the courier deadline and will most likely be delivered on Tuesday if an overnight delivery location, Wednesday if a South Island delivery location or Friday if a rural location.

Order Dispatch Timeframe
Orders are generally dispatched Monday to Thursday. Unless requested we will not dispatch on a Friday.
If you are placing an order for delivery on a Monday, this requires sending the parcel on a Friday afternoon. Orders dispatched on Friday will spend some portion of the weekend in a courier depot with potentially unsatisfactory conditions for the prolonged storage of our perishable product. With this in mind, we ask that you consider avoiding a Monday delivery if at all possible to ensure your order arrives in perfect condition. The best solution in this situation is to request the Friday beforehand as your preferred delivery date.
We do understand however that many deliveries are time sensitive, such as birthdays, and will do our best to ensure any Monday deliveries arrive safely.

Addressing Requirements
The customer is responsible for providing the correct delivery details. If incorrect or incomplete details are provided, we assume no responsibility for the delayed or non-delivery of your order.

Unit and Apartment Block Delivery Addresses
Unit and apartment deliveries can be troublesome for couriers as many have security gates or doors that they cannot get past, or building managers/incoming goods supervisors that handle deliveries. To ensure your order arrives at the correct place please remember to include the full name of the addressee, the unit/apartment number and the street address. If the building has a name, e.g. The Devonport Chocolates Apartment Building, please include that too.
Rural Delivery Addresses
To avoid delays in the delivery of your order please check carefully if the address you are sending to is in a rural courier delivery area. New Zealand has a significant number of rural courier delivery areas, some that may surprise you. It is our experience that many people have not been aware their own address was in a rural courier area, let alone the address of a gift recipient. Even if you are sure your delivery address is not rural, it is ALWAYS safest to check with the official courier database below.
Type in your address and it will indicate if it is in a rural area or not. If it is in a rural area, you will need to take this into account when selecting your preferred delivery date.
https://www.nzpost.co.nz/tools...

Christmas and Seasonal Occasions Delivery
Due to the increased work load of couriers during busy seasonal periods, we ask that you observe our carefully considered delivery cut-off dates to ensure your order is delivered in time. Orders dispatched after these dates may not arrive in time and due to public holidays around seasonal occasions, the order may be delayed in a courier depot for several days. Is this occurs, we cannot guarantee the condition of your order after sitting in an unmonitored environment for an extended period of time.

Weekend Delivery
At present we are unable to offer delivery on Saturdays or Sundays. Please keep this in mind when ordering for occasions such as Mother's Day and Father's Day (which both occur on Sundays) and also Easter Sunday.

Public Holiday Delivery
Please note we are not able to deliver on the following public holidays:
New Years Day, January 2nd, Auckland Anniversary Day, Waitangi Day, Anzac Day, Good Friday, Easter Sunday, Easter Monday, Queen's Birthday, Labour Day, Christmas Day, Boxing Day adn other regional Anniversary Days.

Hospital Deliveries
All deliveries to hospitals are made to a central in-coming goods delivery area. For the security of hospital patients, couriers are not able to enter hospital wards and deliver an order directly to a patient or staff member. We can therefore only be held responsible for the delivery of your order to the in-coming goods delivery area. It then becomes the responsibility of hospital staff to ensure the order arrives with its recipient.
Please remember to include the ward (or room) name and number for all hospital patient deliveries or area/department name for hospital staff deliveries.
If you are sending a gift to patient, please allow at least one extra day in your delivery timeframe for hospital staff to deliver the gift. We assume no responsibility for a parcel arriving after a patient has been discharged.

Order Tracking
Once your order has been packed, we will send you an email with its track and details. Sometimes this email can be received before the parcel has been dispatched in which case no details show up in the tracking window. If this happens please try a track and trace again in 12-24 hours. Should you have any concerns with the delivery of your parcel, please do not hesitate to contact us on 0800 00 2462 or onlineorders@devonportchocolates.co.nz.

Signature Requirements
To ensure the safe delivery of your parcel, we use signature required couriers only. This means that someone must be present at the delivery address to sign for the parcel. This person does not have to be the addressee of the parcel.
If there is no one present to sign for the parcel, a 'card to call' will be left in the letterbox with instructions on how to rearrange delivery for another time or pick up your parcel from the local courier depot.

International Freight
At this time we don't offer International freight. We have found the delays due to reduced number of flights to be problematic. If you would still like us to attempt a delivery for your please call us on 0800 00 2462.
Product Availability
Whilst we make every effort to ensure stock is available to fulfil orders on time, the freshly made to order nature of our product means that during busy seasonal periods we can become temporarily out of stock of some items.
In the case of a gift hamper item being out of stock, we will replace it with a similar item of equal or greater value. For other items we will contact you immediately to advise of the delay and discuss an alternative option if required to meet your time frame. If you are ordering from overseas, please be aware that communication over different time zones may affect our ability to fulfill your order with in the original time frame.

Returns and Refund Policy
At Devonport Chocolates we pride ourselves on the excellent quality chocolate products we produce. We do not have to provide a refund if you have changed your mind about a particular purchase, so please choose carefully. If the goods are faulty, we will meet our obligations under the Consumer Guarantees Act to provide a remedy.
If your chocolate delivery has been damaged in transit or our product is faulty please contact us immediately by emailing onlineorders@devonportchocolates.co.nz or phoning 0800 00 2462 so we can provide the appropriate remedy.
Should a refund be required it will be actioned within 7 days and include the courier fee.