As I write this it is a rather rainy dull day, but a few weeks ago inspired by some spring weather sneaking through, I thought a lemon and white chocolate ganache pie would be the perfect thing for dessert. I've never made a pie before so this was a bit of an experiment, and it turned out delicious!
Ingredients:
Pie Base (makes two bases, I halved the mix for one pie but of course the size of your pie dish may influence this).
340g all purpose flour
85g sugar
227g butter, soft but cool
30g egg yolks (approx 1-2 depending on size of egg)
21g cream
Lemon Filling (taken from the Chelsea Sugar website, lemon meringue pie recipe)
30g cornflour
2 tsp lemon zest
125ml lemon juice
180ml cold water
105g sugar
3 egg yolks
1 tbsp butter
White Chocolate Ganache
255g white chocolate drops
225g cream
50g butter in small cubes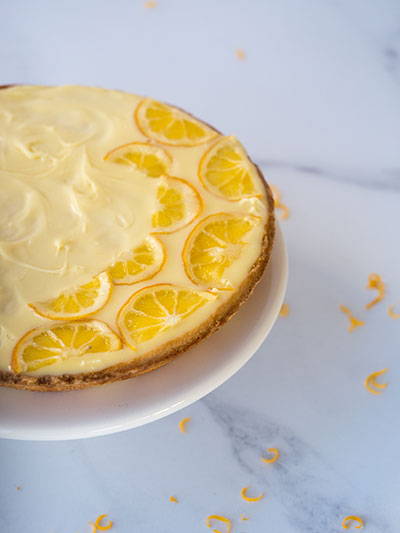 Base Instructions:
Preheat your oven to 180 degrees (I used normal bake, not fan bake).
Combine flour, sugar and butter in a food processor. Process until a dough begins to form. (I didn't have a food processor so used our magic bullet). Add yolks and cream. Process until smooth. If you have used the full ingredients (instead of halving) split your dough in two and roll one half between 2 sheets of baking paper. Chill until cold and then line your pie shell. Prick the bottom slightly with a fork. Pre-bake until golden.
Filling Instructions:
Combine cornflour, lemon zest and juice in a saucepan and mix until smooth. Add the cold water. Gook gently on low-medium stirring until the mixture boils and becomes thick and clear. Stir in the sugar, egg yolks and butter, mix well. Put the filling into the baked base and cook for 15-20 minutes.
White Chocolate Ganache Instructions:
Place the chocolate drops in a heatproof bowl. Pour your cream into a saucepan and bring to the boil, then pour over your chocolate drops. Leave for a few minutes and then stir until smooth, adding the butter piece by piece. Place some plastic wrap over your ganache and press it onto the ganache to stop a hard top forming. Place in fridge until cool.
Once your pie is out of the oven leave to cool. Once the pie is cool, spoon on your white chocolate ganache and place pie in the fridge to cool.
If you would like to make candied lemon pieces, this can be done while you are waiting for the pie to cool and I highly recommend the instructions I found here: https://pipandebby.com/pip-ebby/candied-lemon-slices/
You could also sprinkle freeze dried fruits like strawberries and raspberries on top, that would look amazing, or more lemon zest.
I recommend keeping in the fridge as the white chocolate ganache can get soft. Enjoy!