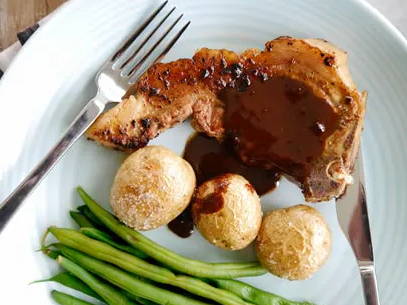 On a cold Sunday afternoon I decided to experiment with savoury chocolate and meat recipes and this is what came out, my husband loved it! This is very much and experimental recipe!
---
4 pork loin chops, rind trimmed off and fat scored
1 tsp finely ground cocoa
2 oranges zested and juiced
In a mortar and pestle place cocoa nibs, fennel seeds, cocoa powder, brown sugar, orange zest, cayenne pepper and cinnamon and grind together. Rub over your pork and leave to marinate for an hour.
Take pork out of the fridge and wipe of the excess cocoa nibs.
Place a pan over medium high heat with olive oil. Cook pork loin chops for 3 minutes each side and set aside in another dish to rest loosely covered with tinfoil.
To make sauce:
Reduce the heat of your pan to low and leave it to cool down for a few minutes you don't want to burn your chocolate.
Add orange juice to your pan, then butter and simmer to heat up, remove pan from the heat and add 70% chocolate keep stirring until all ingredients combined.
Pour over your pork loin chops and serve with your choice of sides, I used fresh beans and baby potatoes.