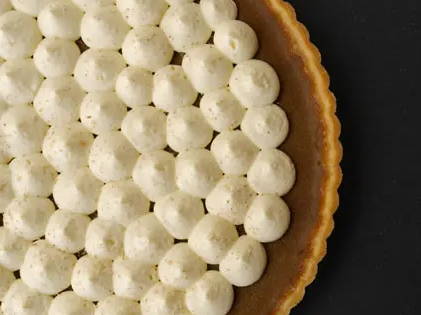 Thanks giving is a growing trend in New Zealand and we asked one of our chocolatier's at the time from California, Ryan to come up with a recipe for us and this is the result. We can confirm it was absolutely delicious.
---
Pastry (makes 2, 9 inch bases)
227g butter, soft but cool
Pumpkin Filling (makes one filling, double if making two pies)
Cinnamon white chocolate whipped cream:
To make pie base:
Combine flour, sugar and butter in food processor. Process until dough begins to form. Add yolks and cream. Process until smooth. Divide dough in half and roll one out in between 2 sheets of baking paper. Chill until cold and then line tart shell/pie shell. Prick the bottoms slightly with a fork and pre-bake until golden at 180 degrees Celcius.
To make pie filling:
Simmer puree until slightly thickened. Add cream, milk, nutmeg and salt. Return to a simmer and then cool for 10 minutes. Whisk sugar, eggs and yolk together. Add pumpkin mixture and whisk until combined. Pour into pie shell and bake at 180 degrees Celcius until center jiggles slightly and sides are set. Cool 3 hours before cutting.
To make white chocolate cinnamon cream topping:
Heat cream to almost boiling. Add crushed cinnamon stick and allow to steep for 15 minutes. Reheat cream to just boiling and strain over white chocolate. Stir until combined and let cool in fridge at least 4 hours. Whip cream to soft peaks and garnish pie with cream